Introduction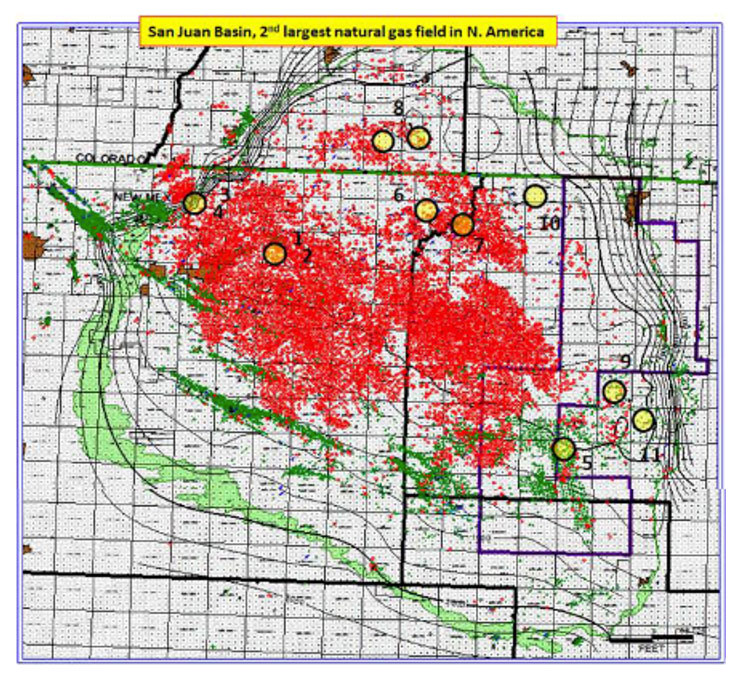 Bloomfield's geographic location offers unique advantages for companies evaluating site selection opportunities. 
Site selection factors to consider are:
Bloomfield is strategically located in one of the largest natural gas producing areas in the United States.  Most of the over 40,000 natural gas wells drilled in the San Juan Basin lie east and south of Bloomfield.  The red dots on the map to the right are some of the thousands of natural gas wells in the San Juan Basin. This makes Bloomfield a strategically important service hub center for the drilling industry in the San Juan Basin;
 
Bloomfield is home to one of the largest natural gas refining, collection and pipeline complexes in the western United States;
 
An available work force dedicated to the oil and gas industry with experience and skills that are flexible and adaptable to other industries.  Their enviable, strong and traditional work ethic has been honed over a 70-year period of service excellence;
 
Labor costs are very competitive and affordable;
 
This dedicated workforce is especially adaptable for small and large manufacturing and fabrication including a proud tradition in welding and the ability to "figure things out";
 
Bloomfield has access to a stable water flow from the San Juan River which flows from the Navajo Lake, one of the largest man-made lakes in the United States.  Water is precious in the West, but Bloomfield is strategically located on the largest, consistent  water flow stream in the San Juan Basin.  Water flow and water rights are available for industrial and agricultural purposes;
 
A rural setting with affordable land for development;
 
Assistance available working with 4 Corners Economic Development and the NM Economic Development Department to explore opportunities in work force training, job development and funding and finance development;
 
Bloomfield is situated on the Albuquerque-Durango, Colorado corridor which is the major US Highway 550;
 
Telecommunications including broadband and 5-G services available in the industrial corridor;
 
High quality of life as noted elsewhere on the website, the Bloomfield area is centrally located to a variety of recreational, cultural and geologically unique destinations.  Trekking stunning canyon vistas, mountain biking, world class fly fishing, rafting, water sports , hunting,  exploring ancient ruins and geologic "badlands", and snow sports are all activities that can be enjoyed within a few minutes to a two hour drive from Bloomfield (see "Attactions and Recreation" on the City of Bloomfield website); 
 
Affordable housing in a rural setting;
 
In addition to being located on major US highways, air transportation for passengers and freight is available at Farmington Regional Airport (20 minutes) and the LaPlata County Regional Airport (45 minutes) from Bloomfield.  The Bloomfield and surrounding area have a vibrant trucking industry with a strong history and pride in "over the road" hauling.
Animas Business Park
After purchasing approximately 75 acres of land, the City of Bloomfield partnered with RIO Real Estate Investment Opportunities, LLC in 2011 to develop the Animas Business Park.  With ready access to New Mexico State Route 550, a five-lane roadway, this industrial zoned site is served by water, wastewater, natural gas, and electric utilities. The City of Bloomfield will actively work with businesses locating in the park to apply for economic development incentives provided by the State of New Mexico. The park is located in a three-mile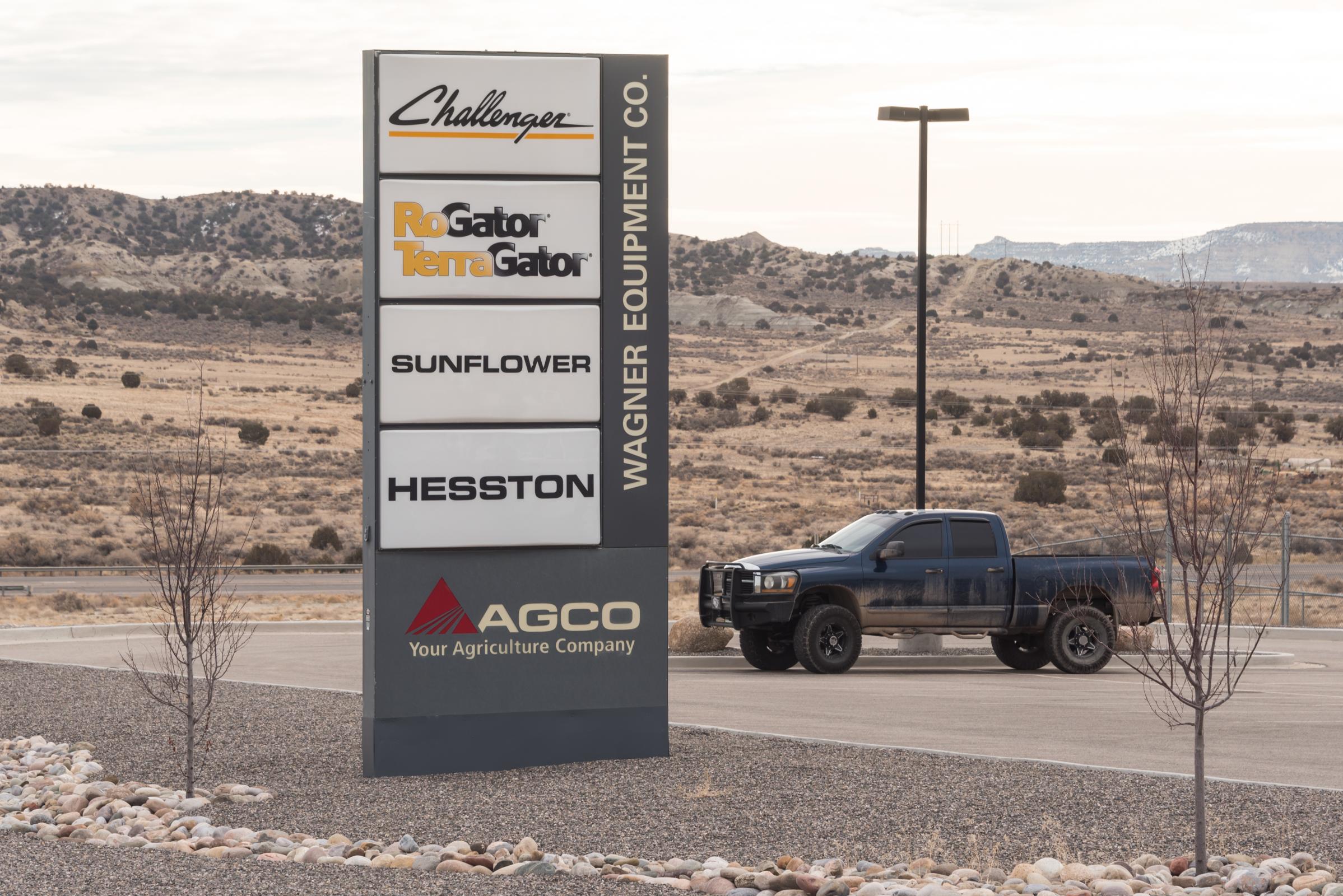 corridor in the northern part of the City which is home to more than 35 businesses related to the oil and gas industry in the Four Corners.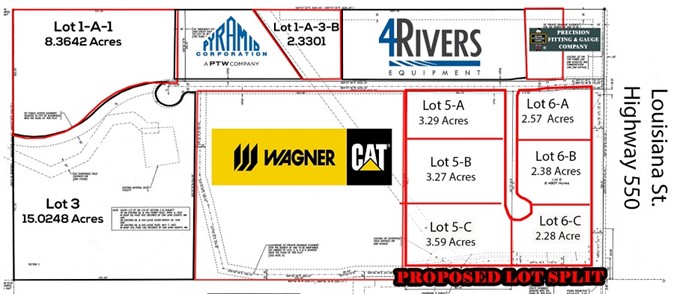 The Oil and Gas Collection, Refining and Pipeline Transportation Facilities in Bloomfield
Bloomfield is strategically located in one of the largest natural gas producing areas in the United States.  Most of the over 40,000 natural gas wells drilled in the San Juan Basin lie east and south of Bloomfield.  Consequently, Bloomfield serves as the major hub for oil and gas production, natural gas refining, natural gas transportation and natural gas servicing in the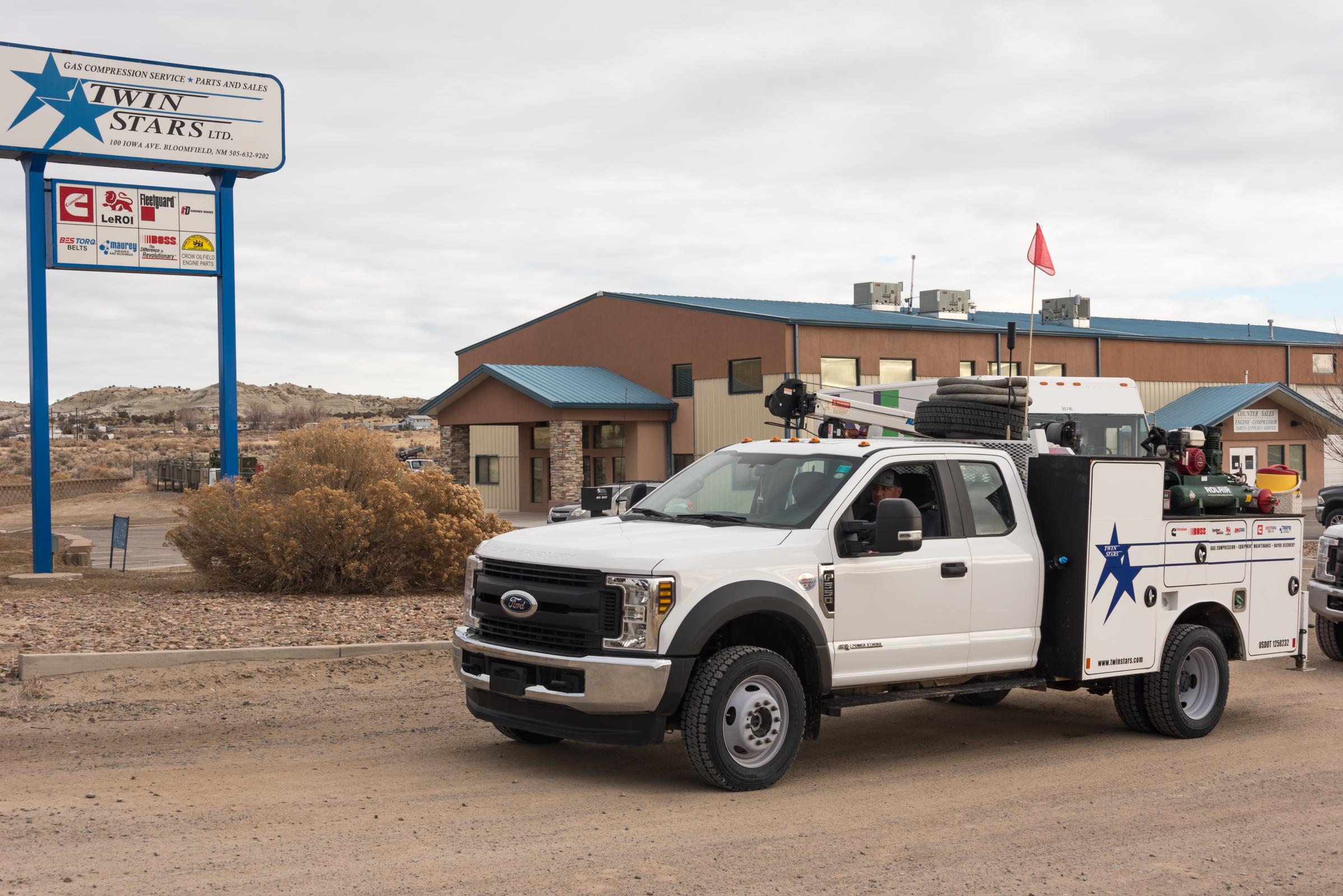 Four Corners Area.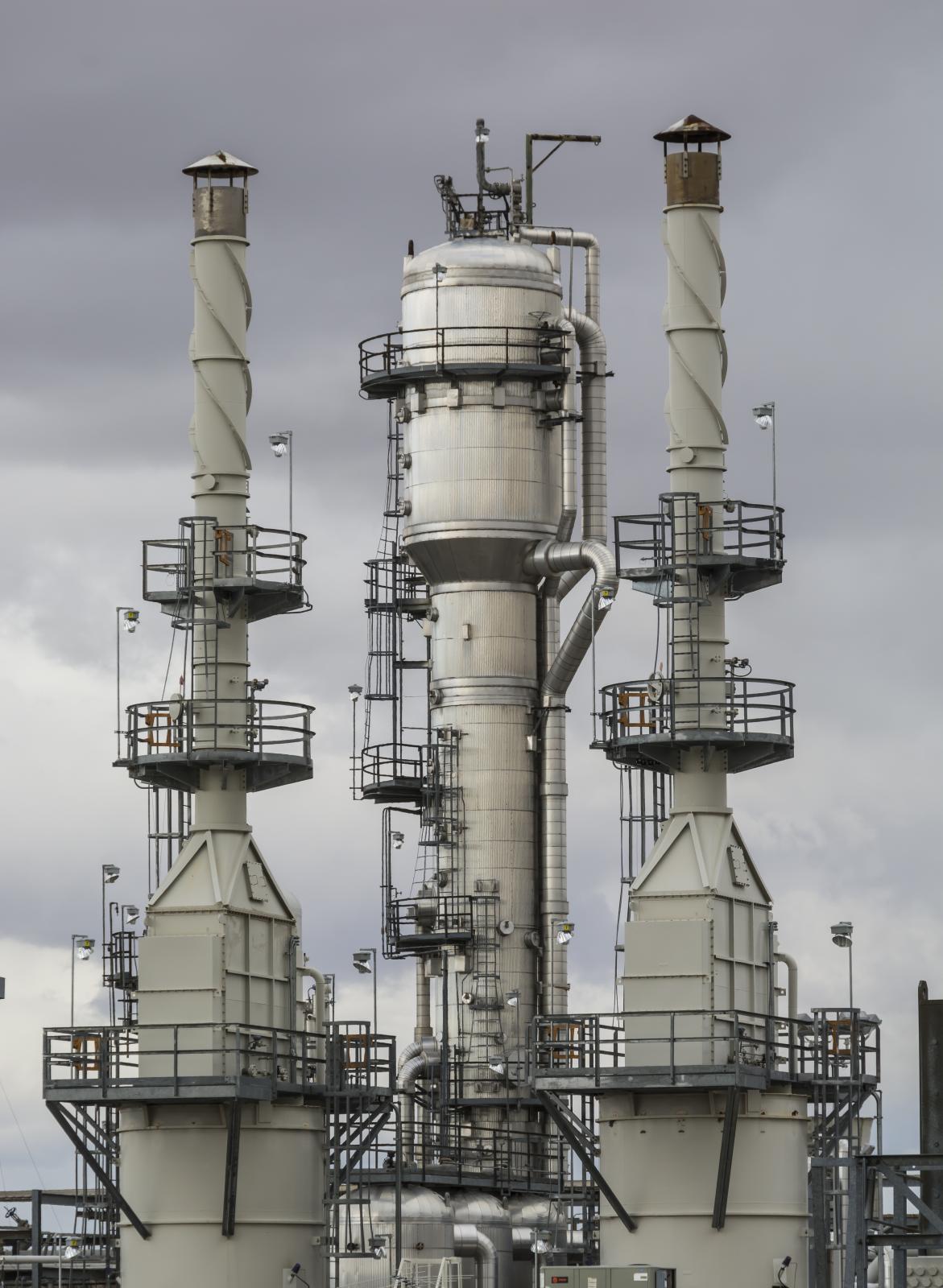 The Blanco Hub Complex in Bloomfield is a series of facilities dedicated to the collection, refining and transportation of natural gas.  Each day several million cubic feet of refined natural gas are transported to points beyond the Blanco Hub Complex.  Natural gas can be shipped by pipeline in almost every direction out of the San Juan Basin.  This gives a large variety of market access to area producers.   The Blanco Hub and its sister hub, Chaco Plant (22 miles south of Bloomfield), comprise one of the largest collection, refining and transportation centers for natural gas in the United States. 
Eight major natural gas collection, refining, pipeline transportation and storage facilities are located in the interconnected Blanco Hub Complex.  Major refining companies located in the Blanco Hub Complex in and around Bloomfield include Harvest Midstream, Kinder Morgan, Transwestern Pipeline, Enterprise Products, and Marathon. 
Natural Gas Well Drilling and Servicing
The Blanco Hub Complex is dependent on a multifaceted and intricate system of support services.  The support services industry for the drilling and servicing of natural gas in the San Juan Basin include a multitude of companies specializing in all facets of the industry.  Accordingly, this has given rise to a three-mile industrial corridor north of Bloomfield that houses
over 35 diversified companies that service the natural gas industry.  These industries include water disposal, fabrication, specialized clothing, equipment manufacturing and servicing, well servicing, man camp rentals, equipment rental, parts, chemicals, and many other diversified products and services.  Businesses in the area rely on a highly educated and experienced work force to make all of the complicated segments of the oil and gas infrastructure operate collectively.
Agriculture
The Bloomfield area is favorably located for the utilization of natural resources.  Bloomfield lies along the San Juan River.  The San Juan River receives a steady, controlled and predictable flow of water from the 47 mile long Navajo Reservoir located 22 miles east of Bloomfield.  The San Juan River provides water for two major agricultural water delivery systems in the Bloomfield area.  Together, these two ditches provide a water source for over 1,500 small farms in the area.  These small farms produce a variety of crops and livestock providing an economic engine to the many agricultural support industries.  In addition, Bloomfield is building a more vibrant farmer's market network to enhance small farm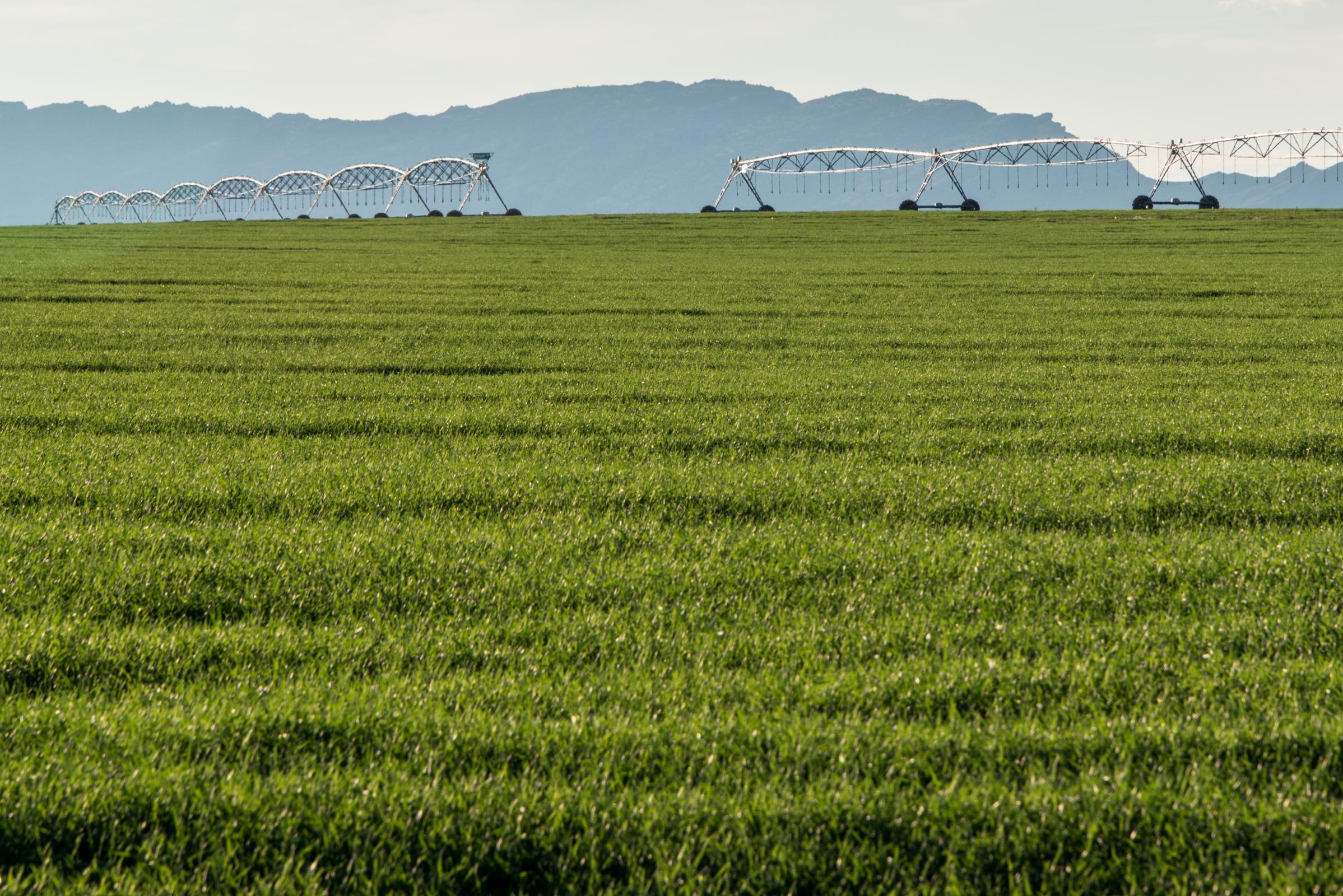 production.
Bloomfield lies adjacent to the Navajo Indian Irrigation Project.  This project is the largest contiguously owned farm in the United States.  It is the largest Native owned farm in the United States comprising over 80,000 acres.  It produces a variety of crops that are shipped both nationally and regionally.  It is a major economic driver for both products, services and employment in the Bloomfield area.
Looking to expand your agricultural business?  Check out Bloomfield for available, affordable, irrigable land with a centuries' long tradition and respect for Mother Earth.
Tourism and Outdoor Recreation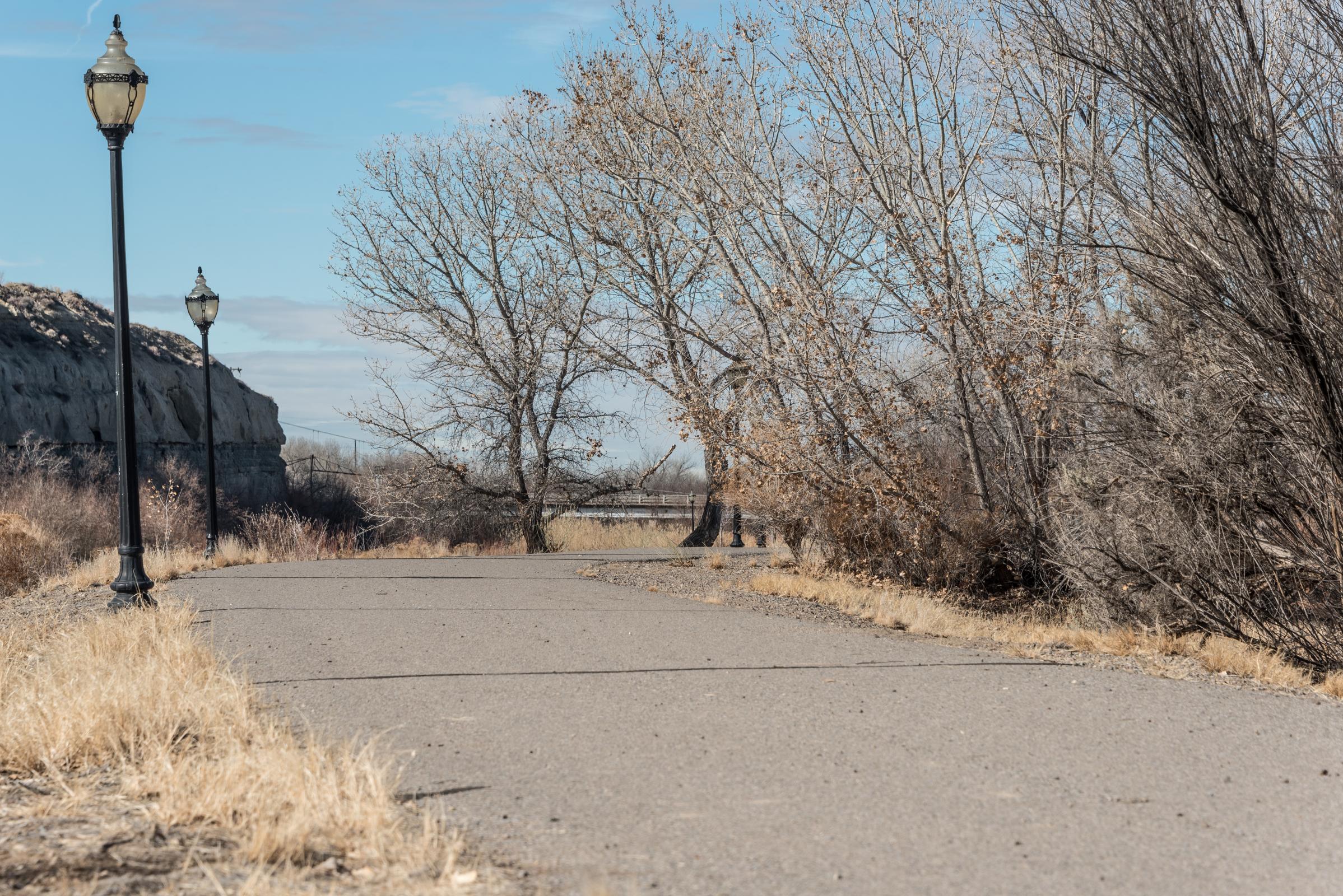 Due to geologic and archeologic good fortune, Bloomfield is the gateway destination to a variety of natural wonders and attractions.  Bloomfield lies in the center of geologic rock formations created by pre-historic seas millions of years ago.  These geologic wonders have created scenic wonders that are stunning and must be seen to believed.  The area around Bloomfield was once an inland sea creating a lush, wet and humid environment in which dinosaurs roamed.  Now these areas contain spectacular rock formations and fossils. These areas are in close proximity and are easily accessible from Bloomfield.  Hiking and exploring "badlands" near Bloomfield is an exhilarating journey back in time.
Bloomfield is in the midst of a rich archeological area.  As noted in the "History of Bloomfield" on our website the Bloomfield area had been inhabited by the Anasazi (Chacoan and Pueblo peoples) from about 200 AD to around 1300 AD. Consequently, the Bloomfield area is an archeological treasure trove with many ancient Anasazi ruin complexes.  These include Chaco National Cultural Historic Park, Salmon Ruin Indian and Archaeological Park, Aztec Ruins National Monument and the cliff dwellings of Mesa Verde National Park.  In addition, one can wander numerous canyonlands near Bloomfield to explore outlying ruins and petroglyphs.  As noted in our website, Bloomfield lies adjacent to four Native American reservations that provides a convergence of a rich Native American cultures.
With geologic and archeological wonderlands surrounding Bloomfield, it has become a recreational destination.  The Quality Waters of the San Juan River (20 miles east of Bloomfield) is regarded as one of the top fly-fishing streams in the world.  Small bird hunting, bird watching, hunting of deer and elk, hiking trails, equestrian trails, rodeos, atv trails, four- wheeling, bicycling canyon trails, river rafting and boating on Navajo Lake are just some of the recreational activities that can be enjoyed amidst scenic desert vistas in and around Bloomfield.  Please refer to the "Attractions and Recreation" page on the City of Bloomfield website.  If you love geology, archeology and outdoor recreation, you can find it all by making Bloomfield your destination adventure headquarters.
Points of Contact for Bloomfield Economic Development
Let the Bloomfield Economic Development Team assist you in exploring opportunities in Bloomfield.  Please contact the following people to assist you in your economic due diligence.  We want your business!
Click Here to View Available Commercial and Industrial Space in Bloomfield