Looking to relocate to a community that will "Jolt" your life's journey? Congratulations, you've landed on the right site. WELCOME to Farmington —  The place where outdoor lovers and active families thrive!
Farmington, New Mexico, is a hidden gem that's gaining attention for its natural assets, low cost of living, family-friendliness and support for businesses. Located in the heart of the Four Corners region, residents of Farmington enjoy sensational seasons of 268 days of sunshine, making this vibrant community the perfect place for outdoor recreation enthusiasts, entrepreneurs, retirees and location-neutral professionals looking for a better work-life balance.
Farmington makes up one of four metropolitan statistical areas in New Mexico. Its population is around 44,000 people, and the city serves as a shopping hub for some 300,000 residents of neighboring communities. Locals and visitors alike enjoy the area's unique flavor of restaurants, arts and culture, events and outdoor adventures. The up-and-coming food truck scene, mobile boutiques and outdoor guides provide a glimpse into our citizens' entrepreneurial flair.
Head to Historic Downtown Farmington, the HeART of the community, to indulge in award-winning New Mexican cuisine, pizza with a twist and a coffee/bakeshop that's as pleasing to the eye as it is to the tastebuds. And there's so much more! 
Following a tasty meal, enjoy a leisurely stroll through the newly renovated Main Street with ambient music for your listening pleasure, complimentary WiFi (coming soon) and picturesque murals from local artists. Or take in a show at the beautifully remodeled Farmington Civic Center or at the Totah Theater, reopening soon. This historic building will serve as a center for film and visual arts, housing state-of-the-art A/V equipment to allow for movie screenings, film festivals and visual arts education at its finest. 
Inside the larger downtown space, are smaller spaces that have a big impact —  pocket parks. These mini-parks are an oasis providing peaceful areas to eat, read or just soak up some outdoor time. Pocket parks also serve as intimate entertainment venues for events like the San Juan Jazz Society's Jazz Jam. 
---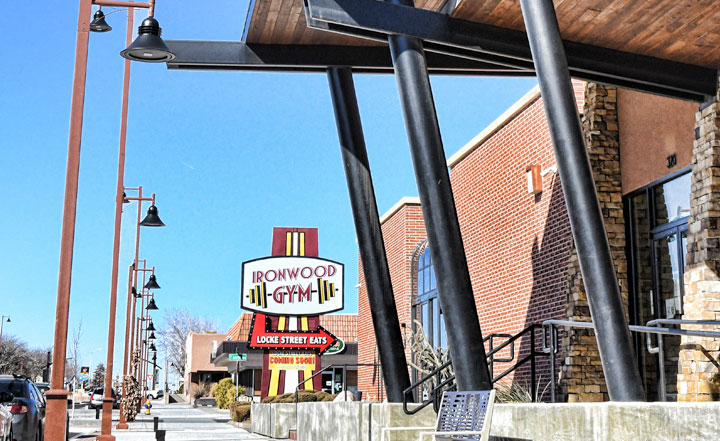 Family-Friendly Community 
Farmington is a family-friendly community that's invested in its youth. The City of Farmington's Parks, Recreation, & Cultural Affairs Department is the second largest department within the city and consists of 17 facilities, 25 athletic fields and over 50 parks and open spaces. The PRCA is dedicated to providing opportunities for citizens to play, laugh, grow, learn and engage in enriching their quality of life.
As New Mexico's only accredited agency through the Commission for Accreditation of Park and Recreation Agencies (CAPRA), the PRCA supports the National Recreation & Parks Association pillars by: 
Leading the community to Health & Wellness through parks and recreation.
Protecting open space, connecting children to nature, and engaging the community in Conservation practices.
Ensuring Social Equity, so all people have access to the benefits of local parks and recreation.
Police Department
The Farmington Police Department is an internationally accredited and progressive law enforcement agency committed to maintaining the highest standards of personal and organizational integrity while providing its community with a superior level of service.
Department challenges are met by remaining responsive to community needs, employing innovative crime-fighting strategies, implementing state-of-the-art technology, and providing leadership to young people through effective crime prevention and intervention programs.
The Farmington Police Department continues to meet the standards to remain accredited through the Commission on Accreditation for Law Enforcement Agencies (CALEA). The department went through the re-accreditation process in 2012 and was awarded a Gold Standard Certificate of Re-accreditation.
Fire Department
The Farmington Fire Department has proudly served the residents of Farmington since its first chief was hired in 1912. Since then the department has grown and adapted to the ever-growing and changing population and infrastructure of Farmington. The department has grown from a small volunteer department to a full-time department serving the city with six stations as well as a number of specialty teams.
The Farmington Fire Department has an ISO rating of 3. So what exactly is an ISO rating, and what does this new rating mean? ISO stands for Insurance Services Office, and what they do is evaluate and assess fire protection in municipalities and counties throughout the United States. Most insurance companies utilize the ISO ratings when calculating home and business premiums. An ISO of 3 puts FFD's district in the top 2% of all municipalities in the State of New Mexico, which means lower insurance rates.
Farmington Government
Farmington is the progressive, vibrant, scenic, and safe —  center of the Four Corners area that builds bridges among the people it serves, values the environment it occupies, as well as, the history it has, and the hope it offers.
The City of Farmington is a council-manager form of government, the most popular structure of government in the United States among municipalities with populations between 10,000 and 500,000.
The current mayor of Farmington is Nate Duckett. Mayor Duckett first entered into local politics in 2014 when he successfully ran for Farmington City Council. In 2018, he was elected mayor.
Farmington has four city councilors: Linda Rodgers District 1, Sean Sharer District 2, Jeanine Bingham-Kelly District 3 and Janis Jakino District 4.
The city manager performs the duties of chief administrative officer of the City of Farmington as defined by state statutes and the municipal code. The city manager serves as a policy adviser to the mayor and council and provides leadership, coordination and management for the affairs of the city to ensure effective community services. Rob Mayes is the current city manager and has served in this role since April 2008. He is the longest-tenured city manager in the history of Farmington.

Available Commercial and Industrial Property in Farmington



 
---